Shop Alpha Dog ADA Signs online today for all of your ADA Braille signage.
Great prices on all types of quality ADA signs including bathroom wall & door signs, exit signs, custom Braille signs, office signs and more!
Always 100% ADA compliant with FREE shipping on all orders and bulk discounts to 20% off.
All of our signs are proudly made in the USA.
OUR MOST POPULAR CATEGORIES:
OUR MOST POPULAR PRODUCTS:
Quality ADA Signage, Braille Signs, Tactile Restroom Signs & More!
Alpha Dog ADA Signs: Your Online Resource for Buying Tactile Braille Signage
Alpha Dog ADA Signs is proud to be your online resource for tactile Braille signage. Our tactile Braille signs are always 100% ADA compliant, and have been used in the industry for over a decade. With a solid understanding of ADA signage requirements, Alpha Dog has become a trusted name with contractors, architects, sign shops and developers. Plus, all signs are made in the USA at our shop in northern California. So, if you're looking for quality ADA  Braille signage – look no further than Alpha Dog!
For a bit of history, the Americans with Disabilities Act (ADA) was enacted in 1990 to ensure that people with disabilities have access to the same services as those without. This includes things like bathrooms, which must be properly labeled for both able-bodied and disabled individuals. ADA Braille signs are required by law if a building has more than one public bathroom and is not already clearly marked.
Therefore, it's important that your signage meets all ADA requirements so you can avoid fines, lawsuits, or worse – shut down of your business! Remember to always comply with local regulations when installing new braille signage.
Furthermore, Braille signage is a requirement for facilities that provide accommodations to the blind and visually impaired. ADA compliant braille signs must be permanent, tactile (meaning they can be read by touch), use only Grade II Braille, and measure at least 8″ x 6″. For this reason, our braille signs are made from the highest quality materials available and comply with all applicable state and federal regulations.
Know too, that every tactile ADA Braille sign we sell is 100% ADA Compliant and comes with grade 2 'contracted' Braille. In addition, we guarantee our signs meet both Federal and California ADA requirements. This means you can be sure of passing those really fun building inspections easily, quickly, plus when you order online from Alpha Dog ADA Signs, not only do you get a wide variety of colored options to choose from (4 standard colors), but also as an added bonus FREE shipping on all web orders!
And if you're not sure what type of ADA bathroom signs are needed, then don't worry! You can check out this helpful document – 2010 ADA Standards for Accessible Design. By following these guidelines, you'll be on the right track and your business will also feel more welcoming to all types of people. But just a note: There may be additional requirements imposed by other state or local entities so make sure to double-check with them as well before installing any new ADA signage in your establishment. You can also check our our blog post on which signs need ADA Braille signs. Because sometimes it can get a little confusing.
But it doesn't stop there, once you know which tactile signs you need, you still have to install them in the right location. To help with that, we're written an article on assist with the ADA sign installation regulations.
In addition to standard ADA Braille wall and bathroom door signs, Alpha Dog also offers custom ADA signage for businesses, schools, and other organizations. Whether it's a custom shape, size or color, our solutions are designed to your specifications. Contact us today for a free consultation. Just call 888-586-7154 or email us at contact@alphadogadasigns.com today!
And last, why not save a few days and make your design process even more seamless? Standard production is 7 business days or less, but you can expedite the turnaround time by selecting one of our faster options. For example, we offer Hurry (3 business day), Rush (next-business day) and Lightspeed production for an additional fee to meet tight deadlines with professional quality results that are unmatched in today's industry! In addition to speediness, selection of fast shipping guarantees delivery on time without any delays at all. To help estimate exactly how many days standard shipping takes per carrier type please see UPS and USPS maps here.
Please note: Production times DO NOT include shipping. Total time to receive your order is your selected production option PLUS shipping method.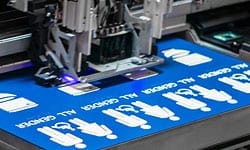 Looking for Quality Wholesale Braille Signs?
If you're a reseller/sign shop, sign up today for addition savings on all standard and custom ADA Braille signs.
Upcoming Inspection Leaving You Confused?
We can help. Just give us a call or send a message and we'll help you sort everything out.
We Are Alpha Dog
Alpha Dog ADA Signs was born out of a combination of life events/interests. Operating a full-service sign shop for years plus having a personal passion to be a volunteer raiser for Guide Dogs for the Blind inspired our niche ADA compliant Braille sign business…and we couldn't be happier.