So, why are we talking about color matching? In our recent blog posts, we discussed adding custom colors (like branded colors) to your ADA Signage. It is essential to understand what goes into PMS Color Matching or Color Approximating depending on the machinery which the sign is printed on.
To warn you this post might get a little technical, but it is essential to understand what you are getting when you Color Approximate your ADA signage instead of true PMS Color Matching. Our goal in this post is to let you know why Alpha Dog ADA Signs chose to use verbiage like PMS Color Approximate instead of PMS Color Matching.
What is RGB?

If you have ever spent some time around someone who works on the web, you probably heard them talk about RGB when it comes to how colors display on screens. On most electronic screens like TVs, computers, and tablets we have pixels and these pixels are broken down into subpixels. These subpixels consist of Red, Green, and Blue; also known as RGB.
Depending on the different amounts these subpixels are energized will result in an array of colors. If you are looking to obtain a white background, energizing these subpixels to 100% each will result in pure white. On the other hand, if you are looking for black, decreasing the subpixels energy to 0% will make those subpixels dark. That is why so many websites include a distinct set of colors since each subpixel can be energized differently.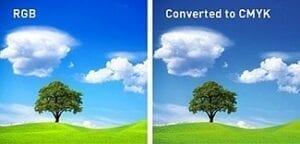 It is good to remember that RGB to PMS to CMYK will each render the color differently. Since RGB has a greater range of colors, it can produce colors that are more vivid and vibrant. If you have ever designed or looked at something on a screen and then printed it; most of the time these vibrant colors are beyond what CMYK printer can reproduce.
These colors vary slightly and sometimes look muddy, because of the way the CMYK printer color mixes. Most of our offices have a CMYK printer.
What is PMS?
PMS stands for Pantone Matching System which is a standardized color matching system. Pantone is the most widely used systems which allow a consistent understanding among printers and designers.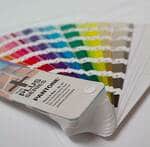 We looked around and found that companies that do PMS Color Matching tend to be more expensive. The reason for the cost is relatively higher than other companies who print with CMYK printers like our D.C.S. printers is because of a particular PMS printer is required.  Then each PMS color that your logo or branding consists of is a single bottle of ink, so if you have three PMS colors, you would have three distinct bottles. These distinct bottles of colors are known as spot colors ("Solid" or premixed ink colors by Pantone).
Pantone Website: The Pantone Matching System
What is CMYK?

Keep in mind, Pantone Colors allow brands to use colors which can not be mixed in CMYK. CMYK stands for Cyan, Magenta, Yellow, and Black and is commonly used in printers. Our Direct Color System (DCS) Printers produce our products by mixing various amount of CMYK to achieve end results. It is also a subtractive process, which means that each unique color requires more or less light.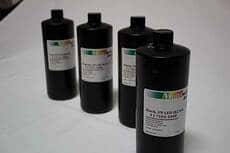 A great example of the subtractive process is when you mix CMY to achieve a dark brown (not pure black) and then Black (K) is added to remove the light from the dark brown.
As a result, our eyes perceive the color as black.  Even though it is possible for some of the Pantone Colors can be reproduced by mixing CMYK inks, though others require pre-mixed inks.
PMS Color Matching VS. Alpha Dog ADA Signs' Color Approximating Process
So lets recap: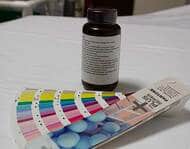 To truly be able to say we are able to PMS Color Match we need both a PMS Printer along with PMS spot color
PMS Color Matching tends to make prices higher
PMS colors are exact colors which does not have a CMYK mix solution
Now, here is our solution:
We are not able to exactly match a PMS color, but we are able to provide a CMYK color mix solution that is close to the desired color. We call this PMS Color Approximating Service. With the PMS value you provide us, our ADA experts put it into our system and work on finding the color that matches as close to the number or sample provided.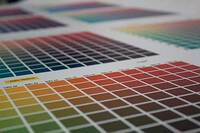 As a test to check our printers and make sure that they were calibrated correctly we printed out sheets of different chip colors to understand exactly how close we could achieve a certain PMS color. It was a success for the color we chose.
What are Standard ADA Options (ADA Alternative Substrate & Applique)?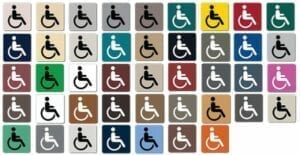 I know what you are thinking… How could there possibly be more? Don't worry, this is just to let you know if you decided to go with our standard ADA sign material that these products are purchased from Gemini or Rowmark. We use their matte product line which was specially designed to comply with the ADA federal regulation.
If you have inquired about free chip colors or have received color chips you will be getting those same colors if requested. If you would like, you can see more Common ADA Compliant Color Option or you can view an ADA Color Contrast Guide courtesy of Rowmark.
Same Color Different Outcomes
Now that we have covered what the difference is between color sets (PMS, CMYK, and RGB) we have to also talk about the material in which you print on. Depending on the surface, colors can look slightly different compared to coated, uncoated, and matte finished products. But we won't get too deep in the weeds. Keep an eye out for that upcoming blog post.
We believe it is important that you understand our printing processes so you can feel at ease when we are working with your ADA Signage.